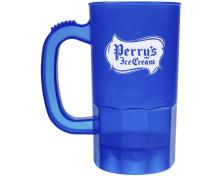 Octoberfest (Ocktoberfest) (Oktoberfest) plastic beer mugs steins custom personalized logo promotional printed beauties, will have everyone thirsting for a sip!
Our cheap discount promotional low cost giveaway BIC CS - Clic Stic Pen, Javelin Pen, Javalin Pen, Javalina Pen 322, Wave pen, Astor pen, Squiggle pen, London Pen, Clipper Pen, souvenir stadium, event and party glass, ceramic and plastic mugs and steins can be imprinted with your custom printed logo using fast next day 24 hour, 1 day or 3 day quick rush service as great personalized promotional plastic mug or beer mugs advertising giveaways program. Other mugs, water, sport, bicycle (bike) squeeze and foam bottles available in 16 oz, 18 oz, 22 oz, 24 oz and 32 oz sizes.
As a great marketing tool to improve your company's exposure, they are not only a unique way of spreading news about your business, but more effective
dollar for dollar
than any other campaign. Many neglect the results a mug can have on advertising and instead, spend a great deal of money on advertising strategies, with little or no definable return on investment.
Using our fast shipping or rush time, short & quick overnight production service, you can integrate your personalised plastic mug so it displays your business and message. We offer plastic & glass mugs, quick express ship and more, at wholesale bulk pricing, so that you can give away many, at low cost. Creation of your company design logo or message won't add to your costs, since our design team can add this for no extra charge.